Two Tulsa Educators Who Overcame The Pandemic's Challenges
The impact of the COVID-19 virus was brutal for Tulsa Public Schools' teachers. The same woes that burdened educators across the country – and indeed globally – affected them, too: school administrators who were ambivalent about how to respond to the pandemic; off-and-on decisions about whether schools would be remote or in-person; coping with COVID-19 illnesses themselves or among colleagues; having to learn the tools of remote teaching on the spot. The post Two Tulsa Educators Who Overcame The Pandemic's Challenges appeared first on The Oklahoma Eagle.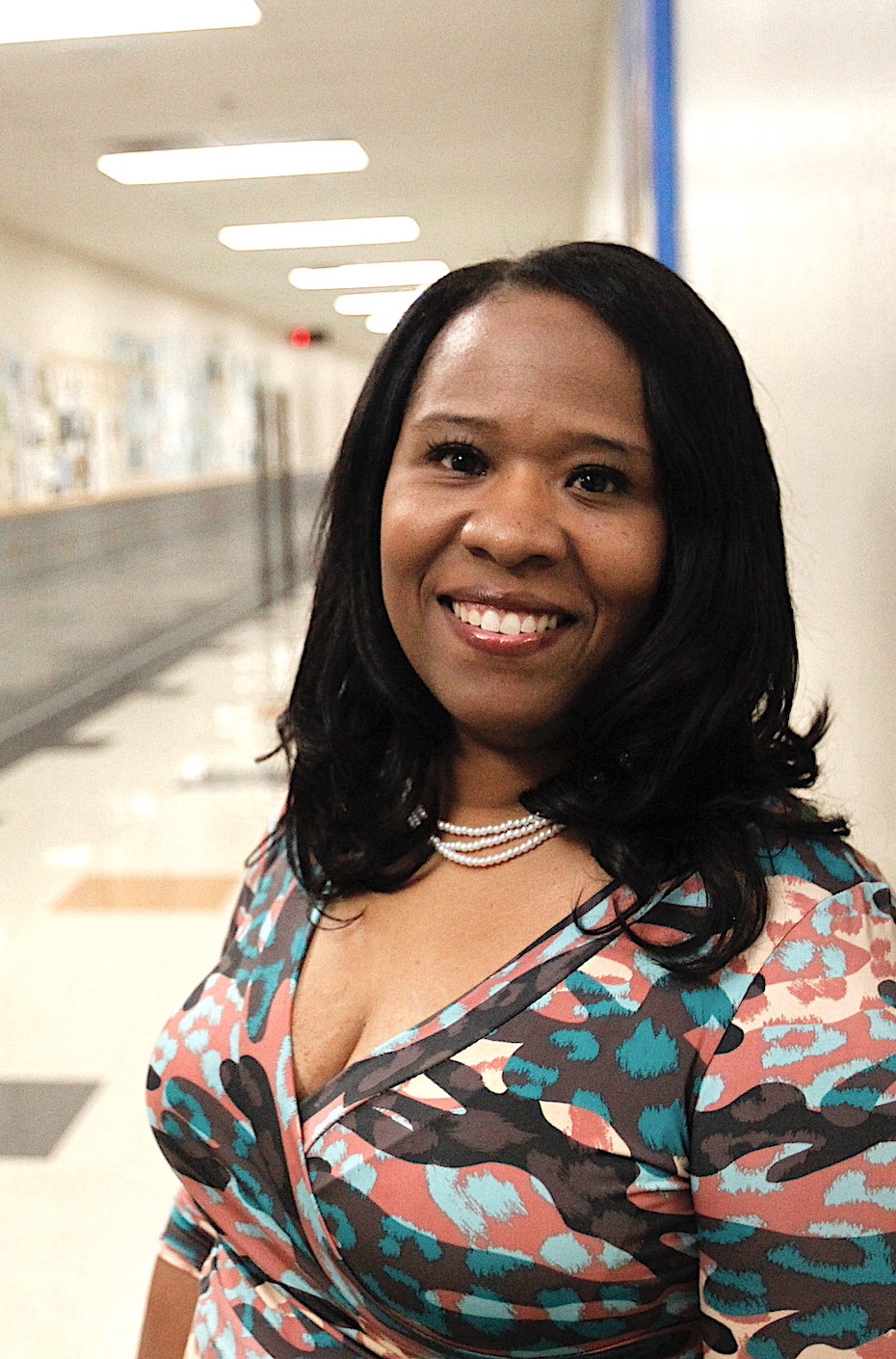 ---
An Investigation | Coronavirus-19: Impact on Black Community
---
TULSA – It all started when former McKinley Elementary School Principal Lynnette Dixon first got word that the global coronavirus pandemic would require her school – and all others across metropolitan Tulsa – to shut down after spring break. 
That was back in March 2020, when the seriousness of the COVID-19 virus was first surfacing.
"I had not ever heard of 'No School' in all of my 30 years as an educator," recalled Dixon in an interview with the Oklahoma Eagle. 
The announcement sent her into a quandary. That quandary, however, lasted only one day.
Even though COVID-19 was still largely a mystery, Dixon realized there was no time to waste. An African American native of the Historic Greenwood District, and veteran educator, she was no stranger to dealing with complex situations.  
First, Dixon mobilized McKinley's teachers and staff, then connected with the parents of her students. Eventually, she'd be knocking on the doors of students, giving pep talks to her teachers and staff, all along reassuring everyone that whatever happened, the ship that was their small Pre-K to fifth-grade place of learning would remain steady.
Dixon's mission: to guarantee that even amidst a global health crisis, all McKinley students received the best possible education, and that all the school's teachers and staff could safely engage in that pursuit. She took a take-no-prisoners approach to fulfill that mission and kept it for nearly two years.
Dixon's attitude was summed up by a primary motto: "We got this," she told herself and anyone else who would listen.  "Failure was not fatal."
Across town at Carver Middle School, English teacher Traci Manuel faced other teaching dilemmas. 
One major issue centered around the socioeconomic differences among her students and how the pandemic magnified those fissures. On the one hand, many Carver students she said were from "European-rooted" middle to upper-middle-class families who had ample resources to hire tutors and employ many other resources to help them overcome the challenges of the pandemic. 
On the other hand, some of the students of color were from less privileged families who lacked the financial or educational background to support their students through the challenges of the pandemic.
"Black and brown students suffered in great numbers, particularly during the peak of the pandemic," Manuel said in an extensive interview with the Eagle.
Manuel had to reach deep inside her well of teaching skills to find ways to address the learning gaps brought on by the gulf in means between families and students. 
She used books and teaching methods that resonated among students from different socio-economic strata. 
In 2022, Manuel's initiative, efforts and leadership did not go unnoticed. She was named Tulsa Teacher of the Year. 
In March, she was selected Oklahoma Teacher of the Year. She is the first African American to win the state's highest teaching honor in 49 years, according to the Oklahoma Education Association. The remarkable distinctions were surely due at least partly to Manuel's deft management of complex classrooms during the pandemic.
"What a gift you are to our state…We believe in the equalizing power of public education," Rebecka Peterson, the 2022 Oklahoma Teacher of the Year, said of Manuel. 
This article is part of an ongoing series in the Oklahoma Eagle about how the COVID-19 pandemic has impacted public education in Oklahoma. Our first installment focused on how the problems of COVID-19 followed Black students from high school to their early years at Langston University, Oklahoma's only historically Black college or university. This story examines how two educational leaders with roots in the North Tulsa community handled the taxing circumstances.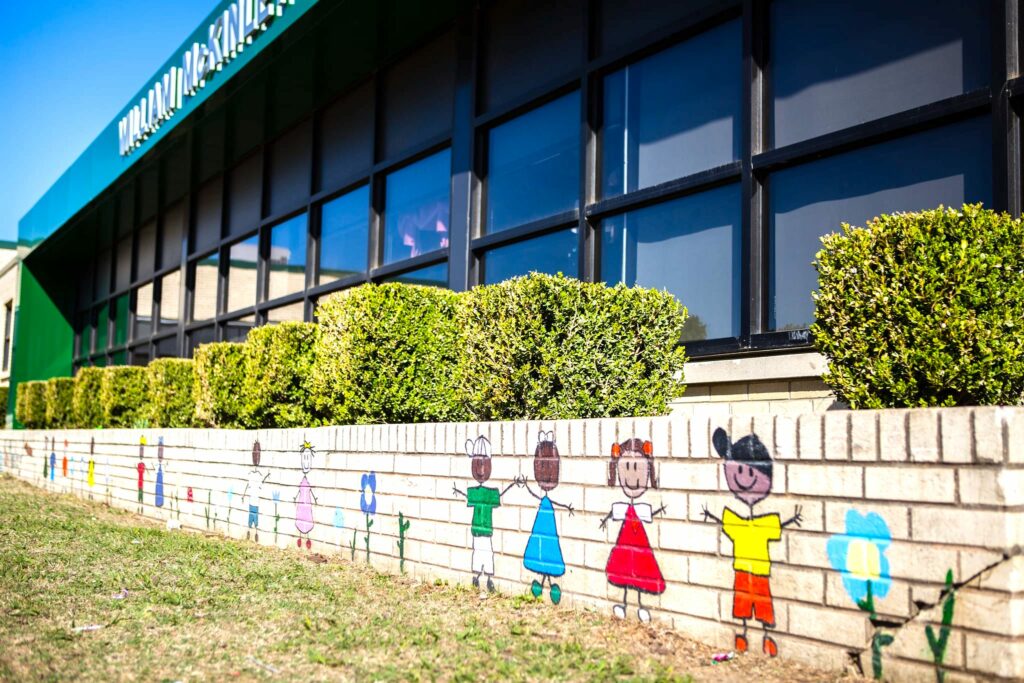 The pandemic flummoxed teachers 
The impact of the COVID-19 virus was brutal for Tulsa Public Schools' teachers. The same woes that burdened educators across the country – and indeed globally – affected them, too: school administrators who were ambivalent about how to respond to the pandemic; off-and-on decisions about whether schools would be remote or in-person; coping with COVID-19 illnesses themselves or among colleagues; having to learn the tools of remote teaching on the spot. 
In Tulsa, teachers from Black, Indigenous and other People of Color (BIPOC) backgrounds faced some unique burdens. Their ability to be effective teachers was hampered, in part, by the passage of House Bill 1775, a Republican-driven statute passed in 2021 legislation that restricts Oklahoma's public school educators from teaching on the topics of ethnicity and gender issues that "one race or sex is inherently superior to another race or sex."
The increased assaults by police against Blacks nationwide during the past years also added to the pressures.
"Taken together, these issues, added to the historical trauma facing North Tulsa, made teaching especially difficult for our Black teachers," said Shawna Mott-Wright, president of the Tulsa Teacher's Association, in an interview with the Eagle. 
Many Tulsa teachers could not cope. 
Throughout the pandemic, many resigned or retired at record rates resulting in chronic teacher shortages. The Tulsa World reported that summertime teacher retirements statewide have increased by nearly 38 percent year-over-year. Many newly retired educators from Tulsa have said that the pressures of the pandemic pushed them to leave teaching years sooner than they might otherwise have gone.
And yet, some Black Tulsa teachers found ways to navigate the hurdles. Both Dixon and Manuel were foremost among them. 
They deftly moved their schools and classrooms through sicknesses and the other dire circumstances wrought by the pandemic. In this article, we focus on their decisions and actions to combat the woes posed by the Pandemic and fulfill their missions as educators.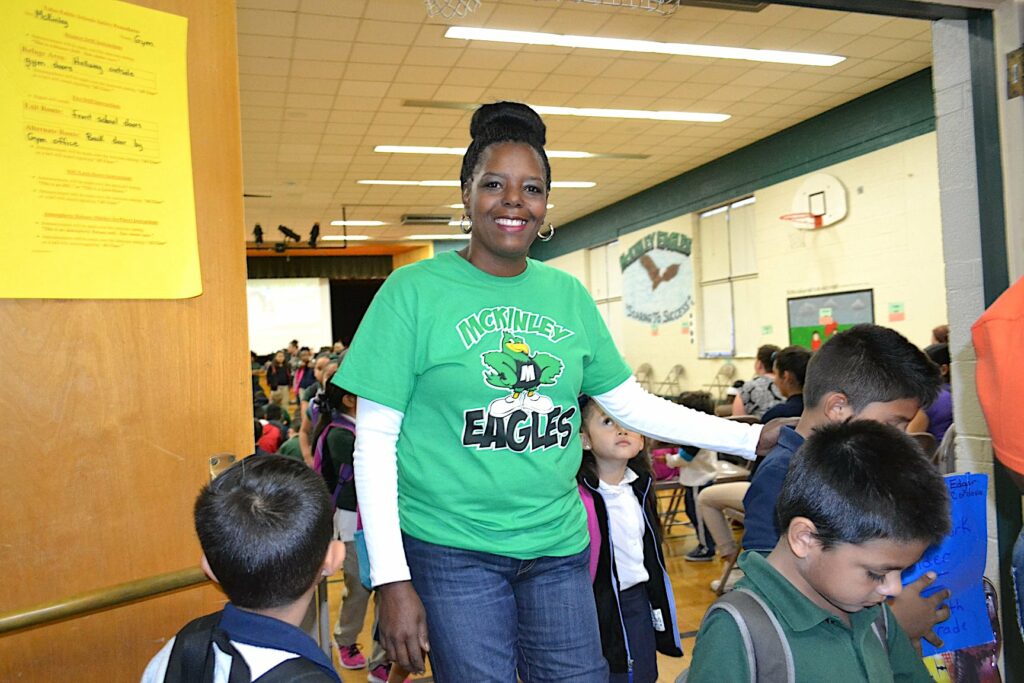 Taking control of a school community 
In mid-March of 2020, the leadership of Tulsa Public Schools admitted it was uncertain about how to respond to the pandemic. Their first directive to school principals, administrators, students and the general public was to close schools until early April. The administrators of Dallas Independent School District, for example, had already announced it would indefinitely close Texas' second largest school district. To provide clarity and insights, Dixon called a colleague in Dallas for advice.
Dixon devised a tailor-made plan to meet the McKinley school community based on her leadership instincts and her colleague's advice. With roughly 440 school kids, the school is located at 6703 E. King St. McKinley, is situated in a racially-mixed Tulsa neighborhood, and the school's hallmark is its racial diversity: 61 percent Latin American, 13 percent Black, 13 percent white and 6 percent Native American. The majority of the students come from low-income families. 
The student body was small enough that Dixon was familiar with most other the children and their home circumstances.
She started with the resources provided by TPS. That included computers and other technology and guidelines to maintain public health safety, from masking to social distancing. 
Dixon then applied some rules of her own. 
Above all, the school should be open and staffed, even if the school is officially closed. While the principals and teachers at most other schools chose to work from home, Dixon decided to report daily to work in her office at McKinley. She and other staff were available to meet to parents at any time through online video conferencing programs. 
"We had the autonomy to plan, act and do what was best for our school community," Dixon told the Eagle. "We knew our students and families needed to see and hear from us. We were available more than any other school.
"The district was supportive. I just did not appreciate outside coaching. They were outsiders not walking a mile in my shoes."
Keenly aware that many of the parents in the McKinley community were low wage earners who lacked the time or facility to manage the crisis easily, Dixon knew that she and other McKinley staff had to fill the gaps. She ensured that the meals provided by TPS were easily accessible to the students. When some students were unresponsive, she or other staff frequently called the parents. When that failed, they made house calls. 
"We did home visits, took technology, and made contact daily," Dixon said. "Students were also able to come into my conference room with masks to get support."
She also encouraged other McKinley staff to engage with parents and students. Recognizing that in a community with a significant Latin American population where many parents were more comfortable with Spanish than English, she leaned heavily on their bilingual parent coordinator and other bilingual faculty and staff.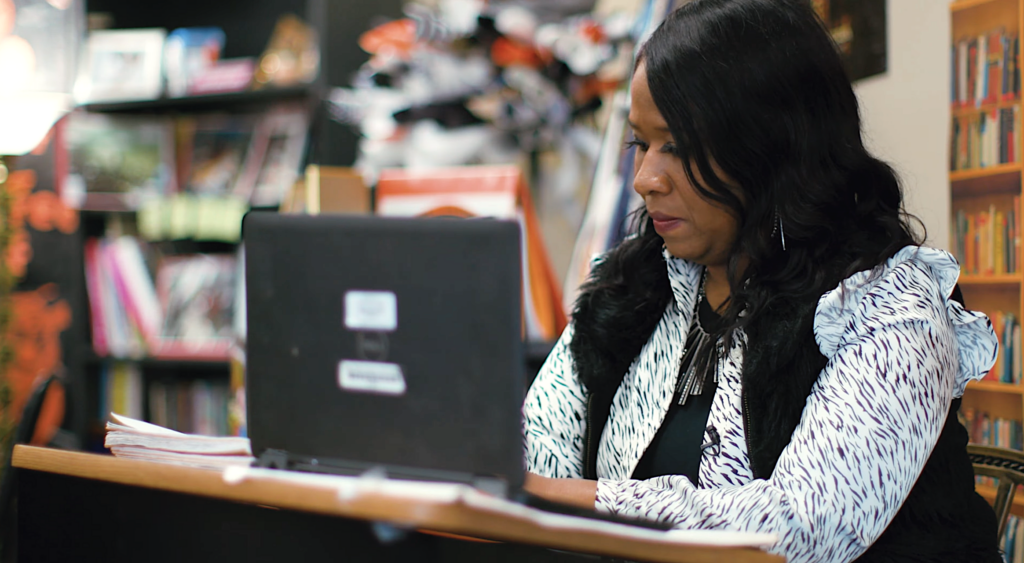 It took teamwork 
Two staff members crucial fulfilling school's pandemic plan were fourth-grade teacher Donna Ross and counselor Niana Christian-Ware. "We worked as a team," recalled Ross, the 2021 Tulsa Teacher of the Year. "But it was Lynn's leadership that made the difference."
She was keeping school going at a steady pace but doing so in a community where food and job insecurities were rampant posed particular challenges. "We led all of our conversations with safety first and support for students and families," Ross said.
Dixon and her staff moved quickly make sure that the computers supplied by TPS got into the hands of McKinley school kids. "However, we knew parents didn't sign up for teaching," she noted. "And so we asked: how do we hold students and families accountable for their learning?"
There were many issues. Families with multiple students in the house became an issue. Some daycares were not equipped to support learning during the day, so students and families had the opportunity to watch recorded lessons. 
But then, recorded lessons did not allow students to ask questions or interact with staff."
Dixon collaborated with her staff and teachers to seek solutions to every problem. "We provided ideas,  structures, and many supports for families," she said. "We were all in learning mode."
She acknowledges that even as a veteran teacher and administrator, she had to learn a few things to fulfill the role of pandemic school leader. "I had to quickly become familiar with various types of scenarios, contact tracing, safety protocols, and the impact that COVID would have on my ability to interact with people in person," she said.
"I was not very technologically savvy. But I put in a lot of time trying to understand processes and procedures."
Dixon maintained her persistent leadership at McKinley throughout the first year and a half of the pandemic until her retirement at the end of the 2020-2021 school year. "Her tirelessness was an inspiration for everyone, not just the students but also the staff," said Christian-Ware, the former McKinley counselor.
Although McKinley students still grapple with some academic and social issues, Dixon takes solace in their achievements. She feels that she left the school's community on more solid ground. 
In the 2021-2022 school year, the school placed higher in academic achievement than the average TPS school ranking. And one McKinley student received the top test scores for her age group in Oklahoma.
A pandemic tale of two school kids 
At the peak of the pandemic, Traci Manuel noted that one of her Carver Middle School students was not regularly attending Zoom classes. Concerned, the veteran English teacher scheduled a conference to ask why. The student came from a "European" background and an affluent Tulsa family.
"I have a real teacher," the student said. 
He explained that his parents had hired a teacher to work with him individually and in person at home. 
"Your class is great," the student explained to her. "But what I'm getting on Zoom is limited. It's more like reviewing material, not necessarily giving me the critical thinking skills that I need to move to the next level of advanced classes. So, the Zoom class is supplementary to what my real teacher is offering."
Another of Manuel's students had a very different profile. He was African American who came from a home with two parents with jobs. They were working class family and did not have the resources to hire private tutors. As high school graduates, they also lacked the skills to help fill the gaps that were an outcome of remote learning.
"Did they want the best for their child? Of course, they did," Manuel said. "Everyone does. However, they weren't sure how to tap into the available resources or how to guide their child."
Like the Dixon at McKinley, Manuel's overriding goal was to secure the best education for all her students, including white, Black, and Brown and students of all socio-economic backgrounds. She pursued this goal while leading classrooms at Carver and has continued to pursue it since joining the staff as an English Teacher at Booker T. Washington High School last year.
Leaning in to teaching 
One critical decision she made was to provide a curriculum that resonated with a diverse classroom. For example, Manuel offered Harper Lee's classic 1960 novel "To Kill a Mockingbird." While wildly popular among some readers, many people are not fond of it for various reasons, she said. 
She paired it with Angie Thomas's top-rated 2017 novel, "The Hate U Give."
"They're dealing with very similar themes that you can talk to students about, and they can relate to," Manuel said. "I think when you begin to pull out the historical references and allusions that the text makes, we can show how certain themes have evolved. That side-by-side look allows all students to see and analyze that."
Manuel said that she also has had to adapt her teaching methods. 
"Our approach to teaching has to move forward," she said. "We must ensure we have kinesthetic learning, especially with our Black and Brown kids. We shouldn't just do traditional classes."
As an example, she compared two age-old popular television shows, "Mr. Rogers" and "Sesame Street." "Many of our white kids related Mr. Rogers," she said. "And many of our Black and Brown students preferred Sesame Street. It was very animated and hands-on." 
In her classroom, Manuel draws from both approaches. 
"If we're only teaching through one lens, then we're going to continue to get the same results," she said. "So, I think that we need to make sure that our curriculum reflects an all-inclusive attitude and that it addresses our need to move our students up on the learning chart."
The pandemic also inspired Manuel to lean into mentoring some students. A group she sponsored called, "Women of Power" addressed issues of confidence, culture, and career and college preparation for female students. It was a self-styled leadership class.
Even in the depths of the COVID-19 crisis, Manuel felt it was essential to interact with the group members face-to-face. With parental permission, she met with them twice weekly to ensure we were still doing community service, building confidence, and moving forward. 
"I still keep in contact with those students," Manuel said. "And they have all learned to work through tough times with coping skills."
Manuel's selection as 2022 Tulsa Teacher of the Year and 2023 Oklahoma Teacher of the Year are potent affirmations of her approaches to educating Tulsa students before and through the pandemic. The schools where she has led English classrooms continue to earn high rankings. Carver, where she taught until last year, and Booker T., where Manuel teaches English, have ranked 95 percent in academic achievement and 68 percent in English proficiency according to TPS's statistics for the 2021-2022 school year.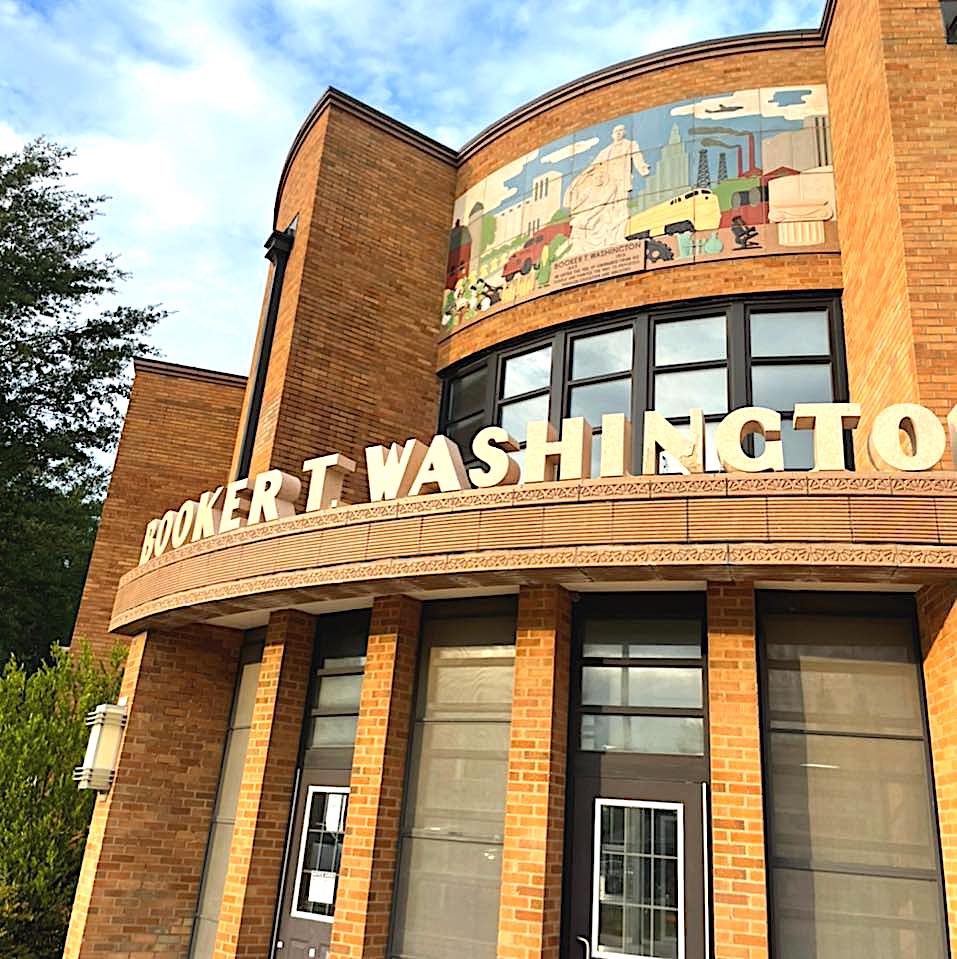 Learning gaps persist 
And yet, Manuel continues to see the learning gaps between students of different races. At Booker T., she teaches some of the same students who were in her classes at Carver. She has monitored their progress during the pandemic.
The student Manuel described earlier, who came from a "European" background and told her that her Zoom classes were supplementary to his "real teacher," has made leaps and bounds in improvement, Manuel said. Three years later, he has moved from Carver to Booker T., and he's on track for advanced classes. He will probably receive the international baccalaureate diploma at Booker T.
"At the same time, many of my Black and Brown students, who I have also followed from Carver to Booker T, are still a year or so behind their white counterparts," Manuel said. "When we look at their writing, again, their critical thinking, dedication, and willingness to work through tough texts, and things of that nature, they may not have the same stamina to do some of those fields. So, they're still affected by the fallout of the pandemic.
"I think TPS is making some progress in addressing the gap, but we still have a lot of work to do."
Both Dixon and Manuel are busy pushing forward with their missions. 
Her 2021 retirement didn't last long. This spring Dixon returned to TPS as principal at Clinton West Elementary School. And Manuel has stepped lively into her Oklahoma Teacher of the Year role. She plans to press the need for equity, better resources, and the need for cultural competency in all of the state's schools. 
"We must believe these students can overcome their hurdles," Manuel said. "We're in the recovery process. All the teachers are putting the recovery process at the forefront of their mindset. The challenges are still tough. But I think we can still get through this."
ABOUT THIS SERIES 
This article is part of an ongoing series the Oklahoma Eagle is publishing about the impact of COVID-19 pandemic on education, partially on Black, Indigenous and people of color communities in Oklahoma. The series, reported and written by Eagle Managing Editor Gary Lee, was funded by a grant from the National Association of Black Journalists. 
---
Lend us a hand in 2023 
I hope you appreciated this article. Before you move on, I was hoping you would consider taking the step of supporting The Oklahoma Eagle's journalism.  
From the various media outlets in our market, to a small number of billionaire owners and private equity firms have a powerful hold on so much of the information that reaches the public about what's happening in the world. The Eagle stives to be different. We have no billionaire owner or shareholders to consider. Our journalism is produced to serve the public interest – not profit motives. 
And we avoid the trap that befalls much U.S. media – the tendency, born of a desire to please all sides, to engage in false equivalence in the name of neutrality. While fairness guides everything we do, we know there is a right and a wrong position in the fight against racism and injustices. When we report on issues like the mental health crisis in the Black community, the ongoing issues with public education and the political discord and troubling legislation being enacted at the Oklahoma statehouse, we're not afraid either to name or hold those individuals responsible for problems that work against improving the lives of Black people.  
Around this nation, our readers can access the Eagle's paywall-free journalism. Our readers keep us independent, beholden to no outside influence and accessible to everyone – whether they can afford to pay for news, or not. 
If you can, please consider supporting the Eagle today. Thank you. 
James O. Goodwin, publisher 
The post Two Tulsa Educators Who Overcame The Pandemic's Challenges appeared first on The Oklahoma Eagle.