Rev. Watson L. Haynes II laid to rest
BY RAVEN JOY SHONEL, Staff Writer ST. PETERSBURG — Hundreds upon hundreds of people celebrated the life of a man who gave his all to a community he loved so much last Saturday, Sept. 10, at First Baptist Church of St. Petersburg. Rev. Watson L. Haynes II was a compassionate quintessential gentleman who diligently provided […]
BY RAVEN JOY SHONEL, Staff Writer
ST. PETERSBURG — Hundreds upon hundreds of people celebrated the life of a man who gave his all to a community he loved so much last Saturday, Sept. 10, at First Baptist Church of St. Petersburg.
Rev. Watson L. Haynes II was a compassionate quintessential gentleman who diligently provided spiritual and economic empowerment to his community. Days leading up to his death, he continued to work.
"I most respected Watson Haynes' concern for others," said Rev. Kenny Irby, senior pastor of the historic Bethel AME Church, as he officiated over the Homegoing service. "His love and his compassion, his courageous pursuit of justice and equity we will celebrate is his legacy…"
Irby said Rev. Haynes gave strict instructions that his service would not be long and drawn out, and those who were asked to speak did just so.
"You look at Watson, his beautiful face, and his endearing smile — whenever I would see him, I'd look in his eyes and couldn't help but smile back," said Congressman Charlie Crist, who'd been best friends with Rev. Haynes since high school, more than 50 years ago.
"Thank you, Watson. Thank you for being so good. Whenever you see good, think of Watson, that's him."
For the past 10 years, Mr. Haynes has helmed the Pinellas County Urban League. As president and CEO, he developed and expanded relationships with the community and corporate partners, emphasizing business, labor, and industry to enhance the League's mission.
Marc H. Morial, the president & CEO of the National Urban League headquartered in New York City, was unable to attend the service because, as a former mayor of New Orleans, he had to keep observance protocol and attend the funeral of another former New Orleans mayor.
Morial sent Herman Lessard, senior vice president of Affiliate Services for the National Urban League, to relay his message.
"We, at The Urban League Movement, ask God, our creator, to ensure that [Rev. Watson Haynes] has everlasting life. And we are confident that the work, his commitment and his impact will never be forgotten. May he rest in peace and in power," wrote Morial.
Longtime friend and mentee, St. Petersburg Mayor Ken Welch, said the leadership of Rev. Haynes had blessed the City of St. Petersburg for more than a half-century.
"Watson has been a mentor, an advisor, a counselor, a trusted voice for many of us. Watson was the person that told us the right thing to do even when we didn't want to do it."
Welch called Mr. Haynes a community champion trusted by community leaders of every stripe, including faith, business, and politics, including his father, David Welch, who Mr. Haynes helped win his first city councilman race in 1981.
"For decades when our community needed a trusted voice, Watson was that unifying leader who could reach beyond our differences of politics, race, and class to find our common goals and aspirations. Time and time again, this community turned to Watson Haynes."
Welch read the City Proclamation, declaring Sept. 10, 2022, as Rev. Watson Haynes Day, signed by himself and four former mayors of St. Petersburg: Rick Kriseman, Bill Foster, Rick Baker, and Bob Ulrich.
Pinellas County Commissioner Rene Flowers struggled to hold back the tears. Not only did her mother and Mr. Haynes' mother work together decades ago, but her sister, Valerie, was married to Rev. Haynes for 24 years. They were in-laws, but Flowers felt as if they were brother and sister.
Flowers recalled how Mr. Haynes would reach into his pocket to help families bury loved ones or pay community members' rent or mortgage. She also gave another example of Mr. Haynes's caring heart when she revealed how the Hayneses kept her family and job intact while recovering from a devasting illness.
"And so, if you don't take anything else away, take away what he did for others," Flowers said. "Make sure that his memory is one that is not in vain."
Singing Mr. Haynes' praise, Pinellas County Urban League Board Member Alvin Nesmith said only with the support of his wife was he able to accomplish so much. "You cannot have all these titles and not have tremendous support, and Valerie was that support."
Nesmith gave an example of Mr. Haynes' bridge-building work when after some friction in the city with the police department and citizens, he brought children and officers together for a question-and-answer session. Nesmith didn't understand the logic.
"And I said, 'So help me understand.' And he said, 'I want those kids to understand that you don't have to be afraid of the police and that it's OK.' I was amazed."
Before his death, Mr. Haynes asked Rev. Louis Murphy Sr., senior pastor of Mt. Zion Progressive Missionary Baptist Church, to give his eulogy. He said when he walked into the room and saw Mr. Haynes, he knew it wouldn't be long. It also dawned on him why he had worked so relentlessly in the last few years.
"He worked until the very end, trying to call shots and making life better for others," said Murphy, admiring how Mr. Haynes spent his last days in service to his community.
"That's what we ought to spend our last days with. We ought to spend our last days giving ourselves to help somebody else. If you don't have that type of service of sacrifice, then you're not really fit to serve. We need folk that are willing to make sacrifices to serve."
More than 30 resolutions and proclamations were presented, including the NAACP St. Petersburg Branch, Omega Psi Phi, Eta Rho Chapter and the St. Petersburg Metropolitan Section of the National Council of Negro Women.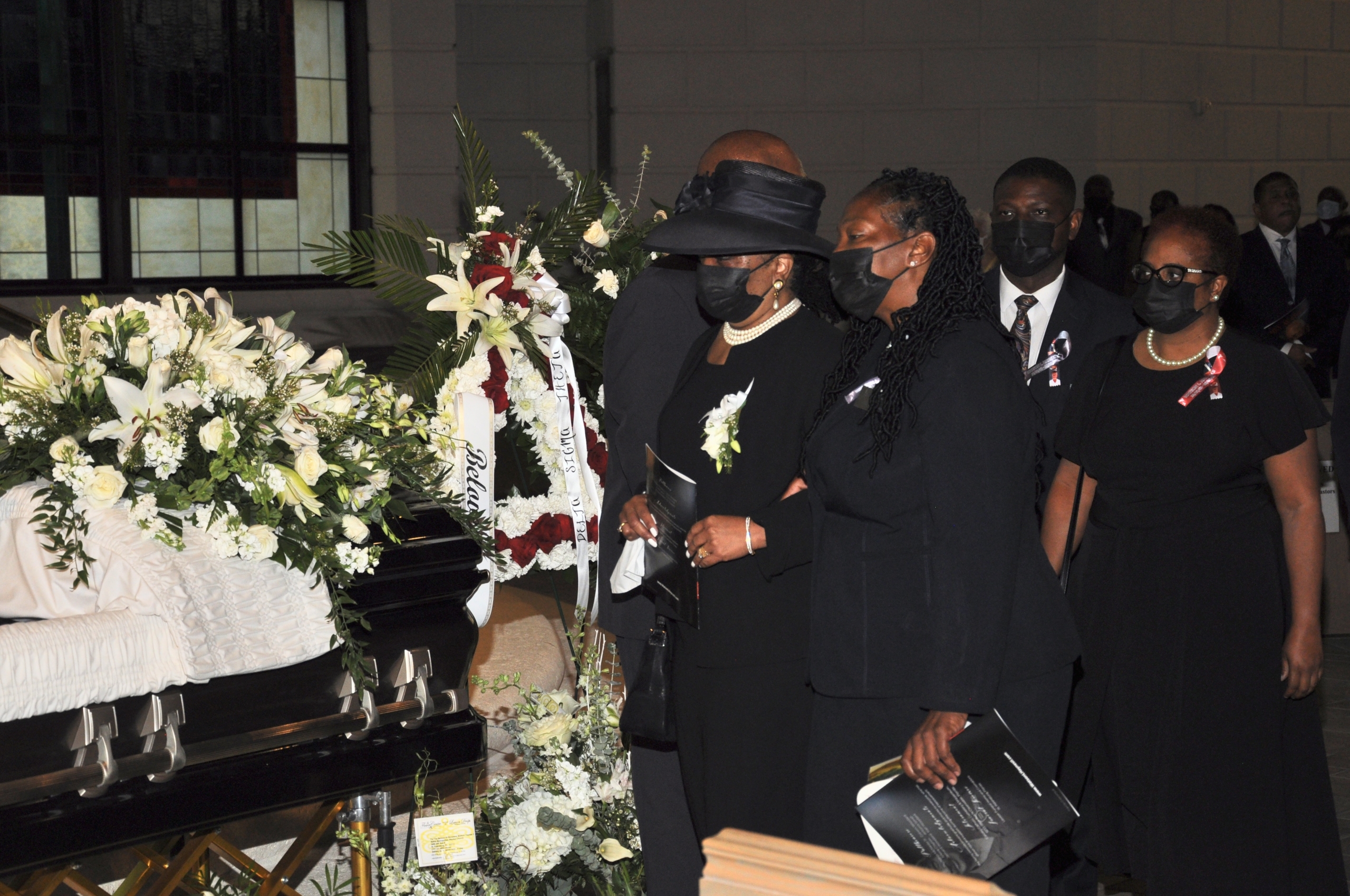 Rev. Watson Haynes II leaves behind to cherish his memory his very loving and devoted wife, Valerie Pendarvis-Haynes, his sister Elnora Scott (Charles), his sons Terry White (Natasha) and Watson Haynes III, and his daughters Monica Snead and Sakina Zilton.
He also leaves 12 grandchildren, 13 great-grandchildren and a host of nieces, nephews, cousins, and of course, his beloved community.
The life of Rev. Watson Haynes II
Rev. Watson Haynes II was a native of St. Petersburg, born and delivered at home by a midwife in the Gas Plant community, where he and his siblings were raised in a Christian home by their mother, Emma Haynes.
Mr. Haynes attended St. Petersburg High School, where he was elected the first Black class president in 1970. As a young man, he often spent time with civil rights activist and mentor Rev. Enoch Davis. They would chat about equality while enjoying milkshakes at Webb's City Drugstore, which later became their meeting place for community involvement.
This mentorship inspired Mr. Haynes to get involved in his community. As a teen, he joined the Young Democrats under the direction of the late Frank Pierce, who was a civil and community rights activist and faculty member of Gibbs Jr. College.
Mr. Haynes' love for Christ led him to pursue a degree in theology. Once again, he was inspired and encouraged by a mentor and Godfather, the late Rev. Dr. Bragg L. Turner, who was the senior pastor of Faith Memorial Baptist Church, where Mr. Haynes attended for more than two decades.
After receiving his degree in theology, he was ordained by Rev. Frank Peterman, senior pastor of the Rock of Jesus Missionary Baptist Church, and Rev. Dr. John Evans, senior pastor of Friendship Missionary Baptist Church in 2016. Mr. Haynes served as an associate pastor at McCabe United Methodist Church, New Pleasant Grove Baptist Church and Bethel Metropolitan Baptist Church, where he and his wife attended as children and were married on Aug. 21, 1999.
Mr. Haynes earned several degrees, including an associate degree from St. Petersburg Jr. College, a Bachelor of Arts degree in Public Administration from Eckerd College and a Master of Business Administration degree from National Louis University.
Rev. Haynes was an accomplished speaker, consultant, and trainer in educational, government, and non-profit operations. His career path included:
Executive Director of Tampa-Hillsborough Action Plan
Executive Vice President of Operation PAR
Executive Director of the Coalition for a Safe and Drug-Free America
Community Outreach Coordinator of Education at St. Petersburg College
Additionally, he was a successful Black small business owner of an office supply company located on Central Avenue in downtown St. Petersburg.
Over the past 40-plus years, Mr. Haynes held positions on numerous governmental boards and commissions, including:
Chair of the Charter Review Commission
President's Advisory Council of Eckerd College
Chair of the Social Action Funding Committee
Chair of the Pinellas Community Foundation
Trustee on the Gulf Coast Legal Services Community Law Program
Charitable Solicitations Board
Corporate Chair of the Inauguration of Charlie Crist as Governor of Florida in 2007
Health Facilities Finance Authority
Social Action and Mental Health Funding Advisory Board
His community service and social and civic engagement included:
Founding member of Concerned Organizations for Quality Education for Black Students
Appointed to Southwest Florida Management District by former Gov. Jeb Bush
Petersburg Chamber of Commerce Board of Director
Board of Directors of Associated Marine Institutes
District Representative of Tampa Bay Regional Council
Florida Commission of Human Relations, appointed by former Gov. Charlie Crist
Although he held many positions and held numerous job titles, his true honor and passion was working for the Pinellas County Urban League (PCUL). His 10-year tenure as president and CEO afforded him opportunities to develop and expand relationships with the community and corporate partners, emphasizing business, labor, and industry to enhance the Urban League's mission. The PCUL advanced tremendously under Mr. Haynes' leadership.
He will be most remembered as a voting rights advocate. Mr. Haynes was known for getting "souls to the polls." He could be heard saying, "A voteless people is a hopeless people."
During his time as president and CEO of the PCUL, Mr. Haynes was a founding board member of the 2020 Plan, Inc., One Community and a board member with the new South St. Petersburg Development Fund.
Over the years, Mr. Haynes held membership in many organizations, including:
Omega Psi Phi, Eta Rho Chapter
NAACP
ODD Brother of St. Petersburg, Fla.
NCNW
Founding member of the St. Petersburg Southside Rotary Club
With greatness comes honor and recognition. Rev. Haynes received numerous awards, including:
NCNW Annual Martin Luther King, Jr. Leadership Award
Tampa Bay Lightning Community Hero Award
Community Leader Award from the Florida Police Chiefs Association
Superior Service Award from Eta Rho Chapter Omega Psi Phi Fraternity
The key to the City of St. Peterburg for outstanding work in the community
Rev. Haynes was a true community hero, making a lasting impact on those he met. He was a husband, uncle, friend, confidant, father, brother, grandfather, mentor, bridgebuilder, peacekeeper, advisor, advocate, champion, and leader. He was a man of authority who used his influence for good.
He made "empowering communities and changing lives" his lifelong mission.
Rev. Haynes transitioned on Aug. 20 at home with his loving family and was interred in the Calvary Catholic Cemetery in Clearwater on Sept. 10.