In Close Vote, Tulsa Public School Board Extends Superintendent's Contract
As Tulsa Public Schools continues to face scrutiny from ongoing investigations by the Oklahoma State Auditor & Inspector and Tulsa police and a downgrade in its accreditation, the Board of Education recently voted 4-3 to extend Superintendent Deborah Gist's contract through the 2025-26 school year. The post In Close Vote, Tulsa Public School Board Extends Superintendent's Contract appeared first on The Oklahoma Eagle.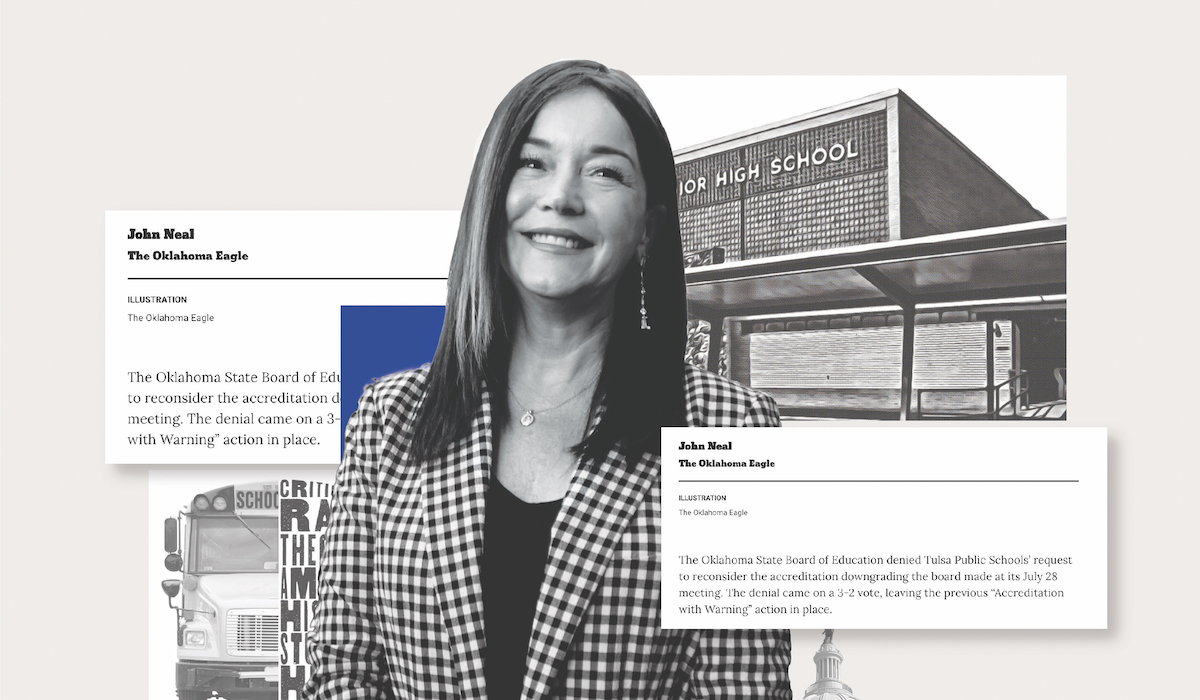 ---
In an expected outcome, the board's two African American members who are among Gist's most vocal critics – E'Lena Ashley and Jennettie Marshall – were joined by Jerry Griffin to oppose adding another year to the superintendent's contract. Gist's existing contract at $254,300 did not include a pay raise. 
On Sept. 29, the board also approved a new "evaluation instrument" that will begin with the next 2022-23 school year. Proponents asserted that it will better align with the district's strategic plan.   
Despite the close vote, Gist said she was "grateful" to continue leading the 33,000-student district, Oklahoma's second largest school district. She told the Eagle she recognized that the board's mixed vote sends a message. 
"I feel a deep commitment to improving how I lead," Gist said. "I work hard to get feedback and to use that feedback to get better and do better." 
She also took to social media to thank the education community for their support. 
 "It is a gift to serve Team Tulsa and our city's children and families, and it is a privilege to be your superintendent," Gist posted on her Facebook page. "I am grateful to our board for their continued leadership, and I look forward to continuing to be inspired, humbled, awed, and grateful as your superintendent through the 2025-2026 school year." 
Black board members opposed the extension    
But the extension of her contract and the new evaluation scheme were not approved unanimously by a deeply divided board. Ashley and Marshall vigorously opposed the measure. And their opposition was not surprising. They have clashed with Gist on many issues.   
On July 1, Ashley and Marshall wrote a join letter to Gov. Kevin Stitt to "request for a special/forensic audit of Tulsa Public Schools by the Oklahoma State Auditor & Inspector Cindy Byrd."  
Stitt agreed, and the audit is underway.  
In their request to Stitt, Marshall and Ashley wrote that Gist had "disclosed troubling information… and the mishandling of public funds." And, they added, "this is not a one-time situation but a pattern of operation."   
Rifts on the school board  
Ten days after Ashley and Marshall held a press conference to announce their request for Stitt's help, board member Griffin joined Ashley and Marshall to abruptly end their board meeting when Gist leveled heavy criticism at the three members. According to a video recording of the meeting, her criticism arose because the three board members dissented on many of the meeting's agenda items that Gist said were essential to the proper functioning of the school district. Because of the absence of board member Judith Perez, the items failed in a 3-3 tie vote. In a subsequent special meeting under heavy public pressure – and with Perez present – the items passed.  
Marshall elaborated the basis for her objection to the contract extension in an interview with the Eagle.  
The four board members voting to extend Gist's contract voiced a different perspective on her performance during a four-hour discussion in executive session. However, the public was not allowed to be present in the board executive session, and the public debate and votes were not live streamed to the public as are regular board meetings. The district denied a request by the Eagle to review archived video footage.   
Board President Stacey Woolley was positive in her praise for Gist's performance. Speaking for the majority in a media release following the board's approval of Gist's contract extension, Woolley said, "We are pleased to extend Superintendent Gist's contract through the 2025-2026 school year. We remain confident in Superintendent Gist's leadership of Tulsa Public Schools as she continues to show relentless focus on keeping our team and students safe, healthy, and thriving."   
The release then included a list of accomplishments by Gist cited by the majority of the board.  
Woolley's release concluded by stating, "We remain grateful for our superintendent's willingness to engage with us and the community to hear feedback and demonstrate a strong commitment to learning and improvement."  
Gist has served as superintendent since 2015, when she returned to her native Tulsa. A product of the district, she is a graduate of Nimitz Junior and Memorial high schools. Prior to returning to Tulsa, she served as Commissioner of Education for the State of Rhode Island, as a senior policy analyst for the U.S. Department of Education and as the first State Superintendent of Education for Washington, D.C.   
Highlights of Gist's Accomplishments
Board President Stacey Woolley noted these accomplishments under Superintendent Deborah Gist 
Expanding access to innovative educational models such as Montessori and dual language learning; and 
Increasing the availability and variety of career-ready programs such as the new Choose Aerospace program at East Central High School; the construction program at Hale High School, and embedded Tulsa Tech programs at four sites; 
Steady gains in the percentage of graduates earning post-secondary credits and credentials; and 
An increase in 3rd grade students who are economically disadvantaged scoring at or above the 50th percentile in reading on MAP (20.7% in winter to 23.5% in spring). 
Tulsa Public Schools is also showing system-wide improvements in key areas: 
Participation in the improved enrollment system increased by 35% over last year and by a total of 67% since the new system launched in 2020; 
Bond-funded improvements to building accessibility, cafeterias, performance spaces, and secondary STEM labs and safety upgrades district-wide; and 
Strategic stewardship of federal recovery funds to support expanded learning and academic enrichment opportunities, air quality improvements at all schools, and nearly $20 million invested in the educators and support professionals who keep our school district running every day. 
The post In Close Vote, Tulsa Public School Board Extends Superintendent's Contract appeared first on The Oklahoma Eagle.