Community Lawfest and Resource Fair tomorrow
ST. PETERSBURG — The St. Petersburg Branch NAACP is hosting the 15th annual Community Lawfest and Resource Fair on Saturday, Nov. 12, from 9:30-3 p.m. at the Foundation for a Healthy St. Petersburg, located at 2333 34th St. S, St. Petersburg. This special event is created to provide free legal and social support services to […]
ST. PETERSBURG — The St. Petersburg Branch NAACP is hosting the 15th annual Community Lawfest and Resource Fair on Saturday, Nov. 12, from 9:30-3 p.m. at the Foundation for a Healthy St. Petersburg, located at 2333 34th St. S, St. Petersburg.
This special event is created to provide free legal and social support services to citizens needing assistance and legal counsel. Increasing access to these services in a critical time of need helps to resolve legal disputes.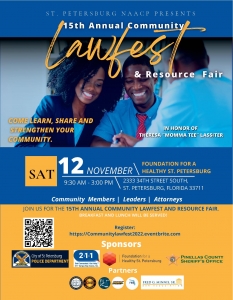 The founder of the Community Lawfest is the late Theresa "Momma Tee" Lassiter, a community activist who began this service in 2002. She will be honored for her dedication to the voiceless and underserved. Her family will be acknowledged at the event in her memory.
Up to 25 attorneys from major law firms with different legal specializations will be available to address the legal concerns of participants.
With approximately 2,000 ex-offenders returning from county jails and state facilities to Pinellas County, Chief Judge Anthony Rondolino stated, "I am pleased to continue my support of this effort by encouraging second chances for those who have paid their debt to society."
Support for the event is supplemented by major traditional sponsors:
Pinellas County Sheriff's Department
The Foundation for a Healthy St. Petersburg
Petersburg Police Department
Fred G. Minnis Sr. Bar Association
211 Tampa Bay Cares
Community Development and Training Center.
This year's program aligns with the NAACP's continued strategic focus on the overrepresentation of African Americans in the criminal justice system. Event organizers have been intentional about reaching out to mental health and substance abuse providers with the increase in mass shootings, opioid use and subsequent deaths.
Seating is limited. To register for the event, visit Communitylawfest2022.eventbrite.com.