Black Music Month 'String & Art Fest' on the Deuces
ST. PETERSBURG — In celebration of Black Music Month, this Saturday, June 18, at 4 p.m. Echambliss.Artist presents the String & Art Fest, an afternoon featuring multi-instrumentalist Hiram Hazley and artwork with a musical theme by local artists. The event will be held at Seven C Music, 535 22nd St. S, St. Pete, and will […]
ST. PETERSBURG — In celebration of Black Music Month, this Saturday, June 18, at 4 p.m. Echambliss.Artist presents the String & Art Fest, an afternoon featuring multi-instrumentalist Hiram Hazley and artwork with a musical theme by local artists.
The event will be held at Seven C Music, 535 22nd St. S, St. Pete, and will include a string music performance, a tribute to Black music composers through videos, audience talkback, and a visual art exhibit of the Midtown community.
"The purpose of this event is to integrate a variety of art forms in order to encourage new cultural experiences both for the audience and the artists while celebrating Black Music Month," said Elaine Chambliss.        
Hazley, a full-ranging musician, vocalist, electric and upright bassist, and keyboardist, was a member of the fabulous Buddy Miles Express (Jimi Hendrix's drummer) and the legendary 50's group, "The Impressions."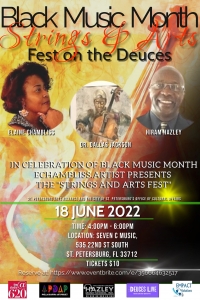 Hazley is the director and instructor of the Hazley Music School. He also produces music and teaches music production at Hazley Studio and Productions. He currently performs in the Tampa Bay area with his groups Magic & Fencewalk (both "dance" bands), Le Jazz (straight-ahead jazz), and is an artist in residence at Ruby's Elixir in downtown St. Petersburg.
Chambliss (Echambliss.Artist) transitioned from the technical field of computer-aided drafting in civil engineering to becoming a visual artist. Alongside painting and selling her art, she is a member of the Arts Advisory Committee with the City of St. Petersburg and partners with other organizations to "promote strength, share heritage, and encourage growth."
The music fest is this Saturday, June 18, at 4 p.m. Admission is $10.
The event is sponsored by St. Petersburg Arts Alliance and the City of St. Petersburg's Office of Cultural Affairs Pinellas with additional sponsorship from Pinellas Diaspora Arts Project, The Deuces Live, The Studio@620, and Empact Solutions.