A Book That Finally Tells Greenwood's Epic Story
"Before its burning, Greenwood Avenue had been lined with hotels, restaurants, furriers, and even an early taxi service using a Ford Model T," Luckerson wrote in The Ringer. "Nearly 200 businesses populated the 35-square-block district in all, as did some homes as stately as the ones owned by upper-class whites in the city."  The post A Book That Finally Tells Greenwood's Epic Story appeared first on The Oklahoma Eagle.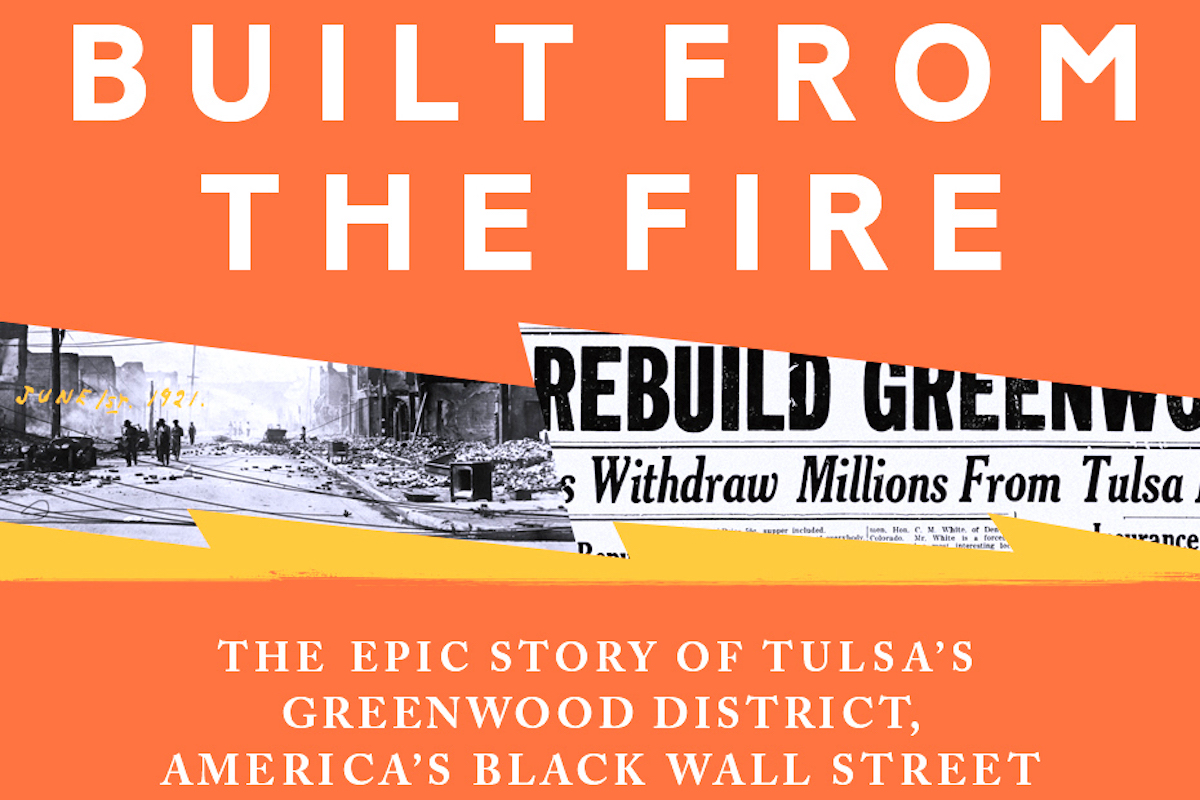 Luckerson, An Award-Winning Eagle Contributor, Pens Sweeping Book on Black Wall Street
---
TULSA — Victor Luckerson was having lunch with his high school friend Cheikh Robertson on the rooftop patio at Republic Social House in the trendy Grant Park neighborhood just southwest of Atlanta's downtown.  
It was October of 2017.  
As their conversations often go, they coursed through the recent elections and ongoing race relations that inevitably led them to confront a topic of shared interest and concern: What is our role to uncover a full and vivid history of Black Americans?  
Victor Luckerson's rendering of the Greenwood District is no less magisterial than the community he has so meticulously chronicled. Built from the Fire is an American epic – damning in its implications, inspirational in its theme of perseverance no matter the obstacles and compelling from its opening paragraph to its final sentence. This is a new addition to the canon of required readings on this nation's tortured racial history. Jelani Cobb, dean of the Columbia Journalism School and author of "The Substance of Hope: Barack Obama & the Paradox of Progress"
As he is apt to steer, Luckerson — who had been writing articles about the intersection of technology with culture and politics for the sports and pop culture digital publication The Ringer— asked if Robertson had seen either the 2016 acclaimed film "The Birth of a Nation" or the 2013 Academy Award winning film "12 Years a Slave." 
'No. I didn't want to," Robertson replied. "…No matter how good these movies are, [slavery] wasn't something that I wanted to celebrate or watch again." 
He asked Luckerson, "why don't we have more stories of modern Black excellence and achievement and victory in this country? Something that might close that gap and answer that question that we have today all the time, which is, 'why do we feel like we're going backwards? Or why has nothing really changed?'"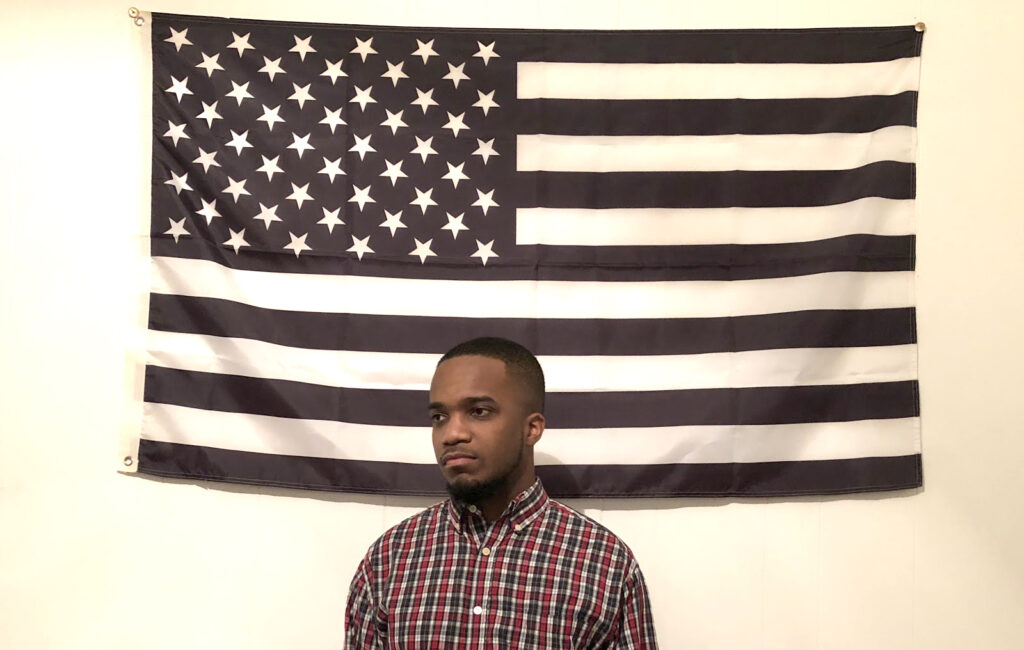 'Modern Black Excellence' 
Luckerson was living in one of Atlanta's oldest historical districts that was mixed with Victorian era mansions, small cottages and trendy restaurants anchored by the city's oldest — and integrated — resting place, Oakland Cemetery. He relocated to Atlanta after transitioning as a business reporter for Time magazine in New York City.  
Robertson was reconnecting with his classmate from the famed Loveless Academic Magnet Program High School in Montgomery, Alabama, ranked as the state's — and one of the nation's — top public school. He was driving through Atlanta on his way to Miami, where he had just opened his own management and marketing company. 
Luckerson followed up with what ultimately would be a lifechanging question. 
"He asked me if I'd ever heard of Tulsa and Black Wall Street," Robertson said. "I had heard the term 'Black Wall Street,' but honestly, I didn't even know if it was a true story. 
Built from the Fire demonstrates how wealth is stripped away from black families whether at the hands of lawless white citizens, law enforcement personnel, or elected officials. It is also the story of black hope and the belief in the possibility of a brighter tomorrow. Dorothy A. Brown, author of "The Whiteness of Wealth"
"So, he told me what he knew about it, and I just felt like this was the type of story — the missing link — that I would really want to hear about; not just as an isolated case. But as a template for how this country developed after slavery and civil rights and up through the present." 
Within days, Luckerson began researching about the history of Black Wall Street and its "level of Black economic success and self-determination that had never existed before in the United States," until it became a reality for the people of Greenwood.  
He also learned more about the 1921 Tulsa Race Massacre and the destruction of the economically thriving Greenwood at the hands of Tulsa's white people — a bloodthirsty, murderous mob that included some of the city's leading citizens, regular folks, Klu Klux Klan members, armed militia, law enforcement, the state National Guard and even adolescent children.  
That conversation with Robertson encouraged Luckerson to write "Black Wall Street: The African American Haven That Burned and Then Rose From the Ashes," for The Ringer on June 28, 2018. 
"Before its burning, Greenwood Avenue had been lined with hotels, restaurants, furriers, and even an early taxi service using a Ford Model T," Luckerson wrote in The Ringer. "Nearly 200 businesses populated the 35-square-block district in all, as did some homes as stately as the ones owned by upper-class whites in the city."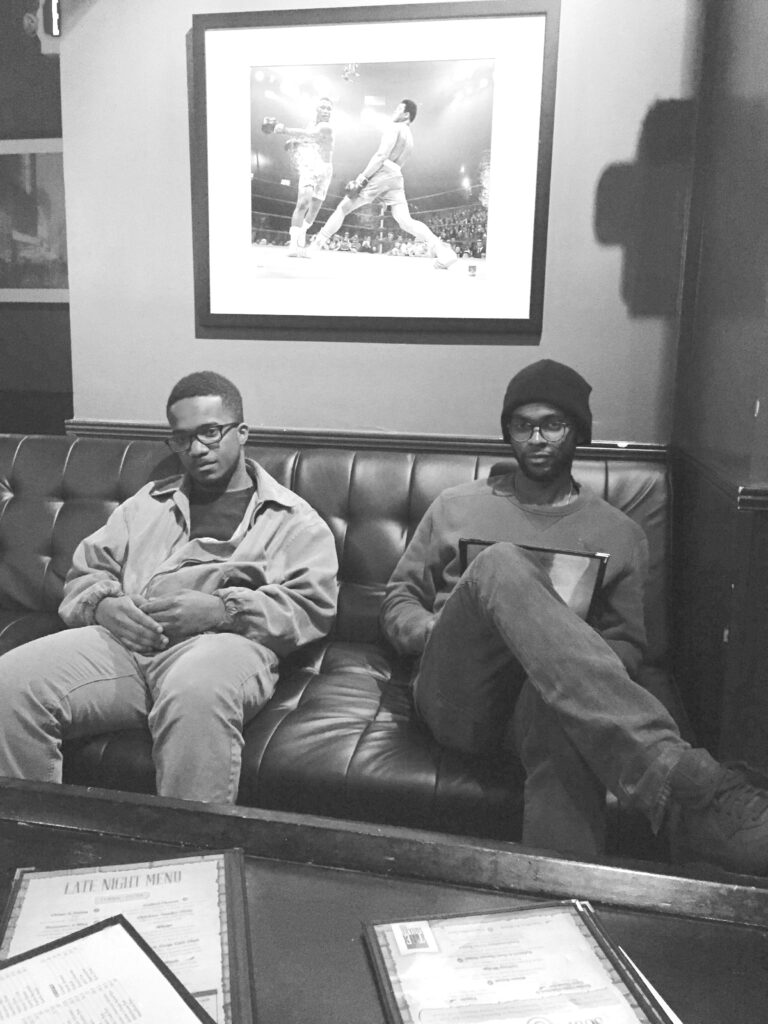 The Exception Rather Than The Norm 
After his article for The Ringer, Luckerson said he felt there was more of the Greenwood story that needed to be told, notwithstanding that some 30 books have already been written about the Race Massacre.  
He learned of the resilience of the Goodwin family, who have remained committed to stay in Greenwood — through four generations and counting — and help continue to fight for its future. Outside of owning The Oklahoma Eagle, which has documented the lives of Black Tulsans since 1922, Luckerson said their family story has remained largely untold. 
"Much of the national fascination with Greenwood is centered on Black Wall Street and this idealized version of Black success," he said. "I wanted to follow one family that epitomized that and see how that success came to be."  
Built from the Fire is a deeply researched chronicle of Tulsa's extraordinary African American community through decades of triumph and tragedy, heartbreak and determination. But, more important, in telling the story of the life and times of the remarkable Goodwin clan, Victor Luckerson has provided us with a true American family saga. Scott Ellsworth, Tulsa native and author of "The Ground Breaking: An American City and Its Search for Justice" and "Death in a Promised Land"
After finding a book agent, Elias Altman at Massie & McQuilkin Literary Agency, Luckerson's 90-page book proposal was shopped around to every major publishing house in New York City. It was the spring of 2019, and many publishers asked if he could finish his book to coincide with the 100th commemoration of the massacre. He said he wanted to delay his book until after the Race Massacre commemoration so he could have the time to compile a full and accurate account of Greenwood's entire history. He also wondered whether his work would get lost among the more than two dozen books that would eventually be published in 2021 about Greenwood and the Race Massacre. 
"My entry point to this story was not actually the massacre itself, but the ingenuity, solidarity, and entrepreneurship of the people who've called the place home for generations," Luckerson, 33, said. "I wanted to explore their legacies in full — the massacre is part of that, but it is not all-defining. Greenwood deserves to be a permanent fixture in the nation's understanding of our collective history, not just a 'trending topic.'" 
Penguin Random House and senior editor Molly Turpin agreed to provide Luckerson the extra time he requested to complete his first book. 
A Book Arrives 
After moving to Tulsa in 2019, Luckerson spent time learning and researching how, in his words, "Greenwood residents fended off every obstacle white Tulsa threw in their way in the ensuing decades, from blatant job discrimination during World War II to the roiling conflicts of the Civil Rights Movement to the quieter, devastating destruction of urban renewal," to keep alive a legacy of hope and rebirth. 
On May 23, Luckerson's book, "Built From The Fire: The Epic Story Of Tulsa's Greenwood District, America's Black Wall Street," will be released. There are book signing events and lectures scheduled during the week of May 21 in Tulsa and Oklahoma City, and later in Atlanta, Georgia, Birmingham, Alabama and New York City. 
"I've been blown away by the care he shows for his subjects," Turpin, his editor, noted in a letter to readers. "Victor imbues 'Built From the Fire' with a thoughtfulness about what the role of a journalist is to a community, what they take away and what they give back, and his committed engagement with Greenwood is apparent on every page of the book." 
Luckerson said he not only provides "a full accounting of the massacre, but the book unearths lesser known history in Greenwood: its proud history of Black aviators; the battle by the Eagle to secure jobs for Black factory workers during World War II; the infamous 'numbers game' and the turf wars to control illegal gambling in the 1930s; the 1960s protests against Jim Crow segregation; the 1970s Freedom School movement to save Carver Junior High; and, for the first time, a thorough accounting of the impacts that urban renewal and the construction of the Crosstown Expressway/Martin Luther King Jr. Memorial Expressway had on the neighborhood." 
While Luckerson said the Goodwin family's saga comprises about a third of the book, it "is not just a family biography. It's a community chronicle that pulls in perspectives from more than 100 North Tulsa and Greenwood residents, both living and departed." 
He worked with the descendants of the Stradford Hotel owner J.B. Stradford, Dreamland Theater founder Loula Williams and "Events of the Tulsa Disaster" author Mary Jones Parrish, who was the first to publish a book on eyewitness accounts of the Race Massacre in 1922, to tell their stories. 
Fighting Today's Battles 
On contemporary issues, he chronicles the efforts of current Greenwood activists and community leaders as they fight for criminal justice reform, Black business opportunities and reparations from the Race Massacre. He includes on-the-ground reporting of recent pivotal moments in Tulsa history, such as the protests following the murder of George Floyd in Minneapolis, Minnesota, the June 2020 visit by President Donald Trump, and the historic visit by President Joe Biden for the 100th commemoration of the Tulsa Race Massacre in 2021. 
The book also looks at the work of Dr. Tiffany Crutcher, who was thrust into the national spotlight following the shooting death of her twin brother Terence, who was killed by then-Tulsa police Officer Betty Shelby while holding his hands in the air. 
He examines the legal crusade being waged by Tulsa lawyer Damario Solomon-Simmons on behalf of the last three survivors of the Tulsa Race Massacre — Lessie Benningfield Randle, 108; Viola Fletcher, 108; and Hughes Van Ellis Sr., 102. 
Luckerson also documents the tireless – and sometimes frustrating – efforts of Oklahoma State Rep. Regina Goodwin as she fights to advance legislation that spans the political spectrum of issues, confronting criminal justice reform, championing voting rights and issues related to the Tulsa Race Massacre. Goodwin's commitment to the legacy of Tulsa also includes a longstanding support for the last three survivors, college scholarships for descendants and the proposal to remove a 1-mile stretch of the Crosstown Expressway that decimated the Greenwood community in 1967. 
"On a more macro scale, the Goodwin family is always strategizing about how to outflank the racist power structures they and their community are up against," Luckerson said. "I wanted to illustrate some of the blueprints they pioneered that we can use today for collective action — whether it's pressuring corporations to do right by workers or partnering with people in your community to reject land grab schemes that are not in your interest. The Goodwin family and their neighbors were at the center of many of these efforts across an entire century. That's worthy of study and worthy of preservation." 
City At A Racial Crossroads 
Attorney and Eagle publisher James O. Goodwin, who remains one of the most consequential voices and protectors of Greenwood's legacy and future, said the depth of Luckerson's work "put flesh on the bones of historical facts." 
As Luckerson researched his book in Tulsa, he continued to write about its history for Time, Smithsonian and The New Yorker magazines. He also became a award-winning writer for the Eagle. 
He credits the efforts of many people, including Tulsans and its institutions, for helping him tell the stories of Black families who define the Greenwood spirit of perseverance. He also noted the incredible work completed by his cousin, Stanley Stoutamire Jr., who was 13 when he became Luckerson's research assistant. Now 18, Stanley spent nearly five years reading decades of Eagle editions, reviewing every lawsuit filed by Race Massacre survivors against insurance companies and analyzing land records to help Luckerson's chapter on redlining in Tulsa. 
"Black history has to have some sort of message that can't just be: slavery ended, then Rosa Parks got kicked off the bus, then Martin Luther King had a dream, and then everyone was happy," Stanley told Luckerson for his blog, Run It Back. "There's a missing piece of the story of America. And it's not actually missing. It's been locked up in a cabinet so that way, the picture looks nicer. This puzzle that is America can't be complete, until that missing piece of Black history is added." 
Luckerson said his time in Tulsa revealed that the city remains at a crossroads regarding race relations. Controversy swirls around the ownership of Greenwood's last remaining open property, the locations of mass graves and a century-old broken promise to help restore Greenwood. 
"Tulsa is a very divided and factional city, though it has a veneer as a kind of progressive or too-busy-to-hate bastion in a very conservative state," he said. "I wanted to explore these fissures in the modern section of the book, which can hopefully open up some more honest conversations in public about how this city operates and who should be in control of the physical space in Greenwood." 
Learning the stories of people directly impacted by the Tulsa Race Massacre and their ongoing fight for reparations, Luckerson forged a personal connection. 
"I feel the weight of that obfuscation and lack of acknowledgment when I talk to massacre survivors and descendants," he said. "It's personal and it's painful, and the city, the state, and the nation have yet to do anything substantive to address that." 
As Robertson reflects on his conversation with Luckerson in 2017, he hopes his friend's book will be valued as a tribute to more than the Greenwood community. 
"To see this go from our casual conversation to this full-fledged book, published by one of the largest publishers in the world… is incredible," Robertson said. "I have no doubt it will have an impact and make a lasting impression for people." 
The post A Book That Finally Tells Greenwood's Epic Story appeared first on The Oklahoma Eagle.