2023 Essence of Ebony Pearls Debutante Scholarship Cotillion applications
High school juniors and seniors who meet the requirements are encouraged to apply. Applications are due by Sept. 30 ST. PETERSBURG – The ladies of Alpha Kappa Alpha Sorority, Inc., Zeta Upsilon Omega Chapter, in partnership with Youth Development Foundation of Pinellas County, Inc., is proud to announce the beginning of its debutante season. Since 2001, […]
High school juniors and seniors who meet the requirements are encouraged to apply. Applications are due by Sept. 30
ST. PETERSBURG – The ladies of Alpha Kappa Alpha Sorority, Inc., Zeta Upsilon Omega Chapter, in partnership with Youth Development Foundation of Pinellas County, Inc., is proud to announce the beginning of its debutante season.
Since 2001, the Zeta Upsilon Omega Chapter has dedicated itself to presenting a new generation of young ladies into society. The Essence of Ebony Pearls Debutante Scholarship Cotillion is a unique program that seeks to further develop and prepare its participants for transitioning into womanhood and for making their official entrance into society at a formal presentation.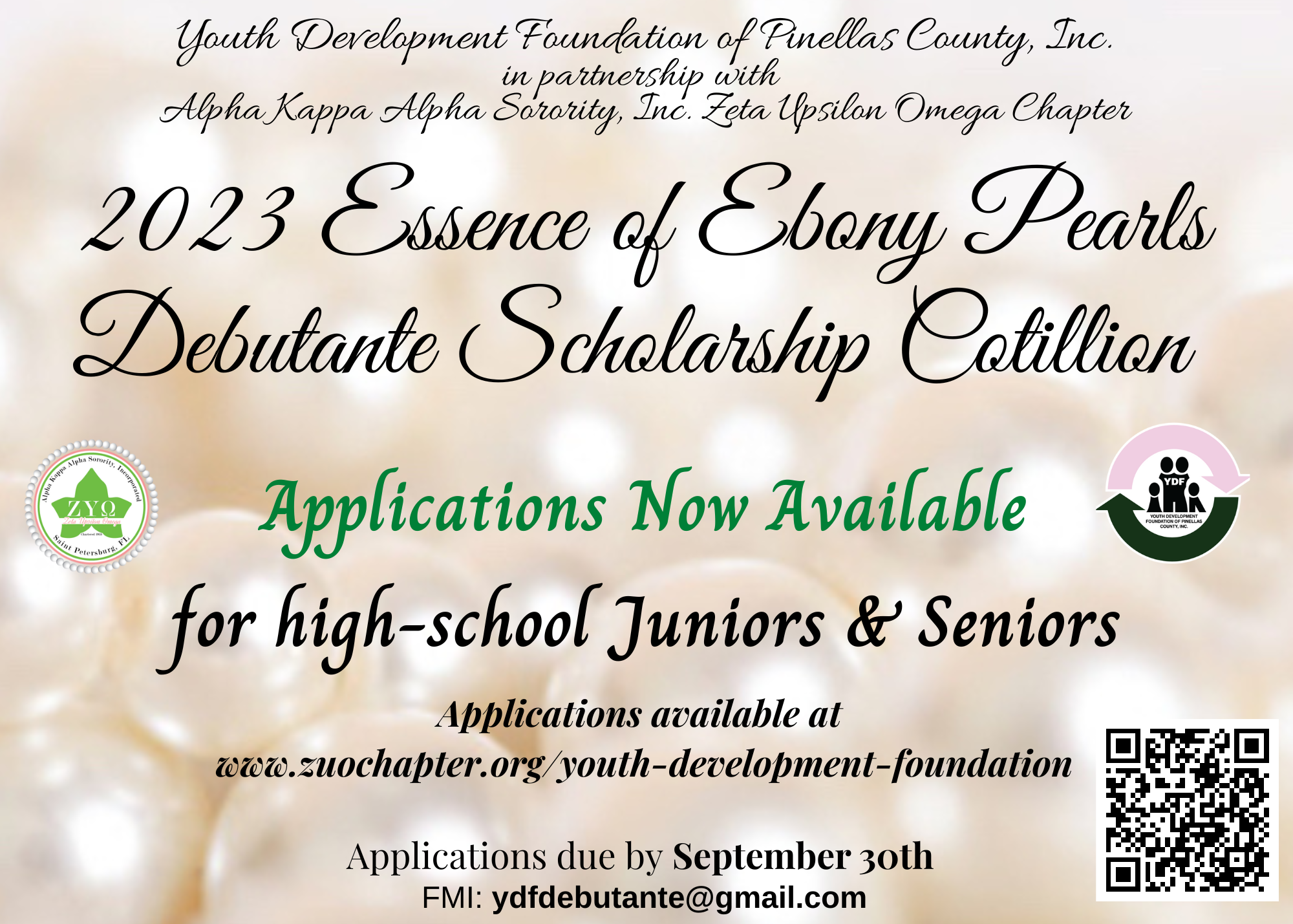 During this preparatory process, the Debutante focuses on her social, academic, leadership, and civic development and is involved in a series of workshops and activities that aim to expose the participants to leadership training, community engagement, and camaraderie. The goal is to develop young women through essential life-changing instruction and experiences.
The applications are now available at zuochapter.org/youth-development-foundation. High school juniors and seniors who meet the requirements are encouraged to apply. Applications are due by Sept. 30.
About Zeta Upsilon Omega Chapter
Zeta Upsilon Omega Chapter of Alpha Kappa Alpha Sorority was established in 1955 in St. Petersburg, Florida. Locally, sorority members actively participate in and sponsor the Exquisite Gem and Pathfinder program, Read-A-Loud Program, Money Sense, Healthy Bodies, Healthy Minds, College Prep Tutorial Program and provide financial support to community organizations such as the American Heart Association, Sickle Cell Disease Association of America, the NAACP and CASA.
For more information on Zeta Upsilon Omega, visit www.zuochapter.org and follow @zuochapter on Facebook, Instagram, and Twitter.
About Alpha Kappa Alpha Sorority, Inc. 
Alpha Kappa Alpha Sorority, Inc. is the oldest Greek-letter organization established in America by black women and was founded on Jan. 15, 1908, at Howard University. Led by International President Dr. Glenda Glover, the organization connects thousands of college-trained women who give of themselves to support community service projects and scholarship programs. For more information, visit www.aka1908.org.